04 May 2012 Peter Bradwell censorship
Peace advocates' website is blocked as porn on UK mobile networks
The past few days have seen a lot of attention given to the neo Mary Whitehouse campaign for default censorship. It's important to remember that filtering systems are fallible – for example, they 'catch' too much content, whether by accident or abuse.
Today we happened upon a fine example. Through our reporting website Blocked.org.uk, we established that the website of anti-violence advocates Conciliation Resources is blocked by mobile networks Orange, O2 and Vodafone by their child protection filters. That block applies by default on pay-as-you-go contracts. O2's URL checker, which shows how websites are categorised and why they are blocked on the network, tells us the site is classified as 'pornography':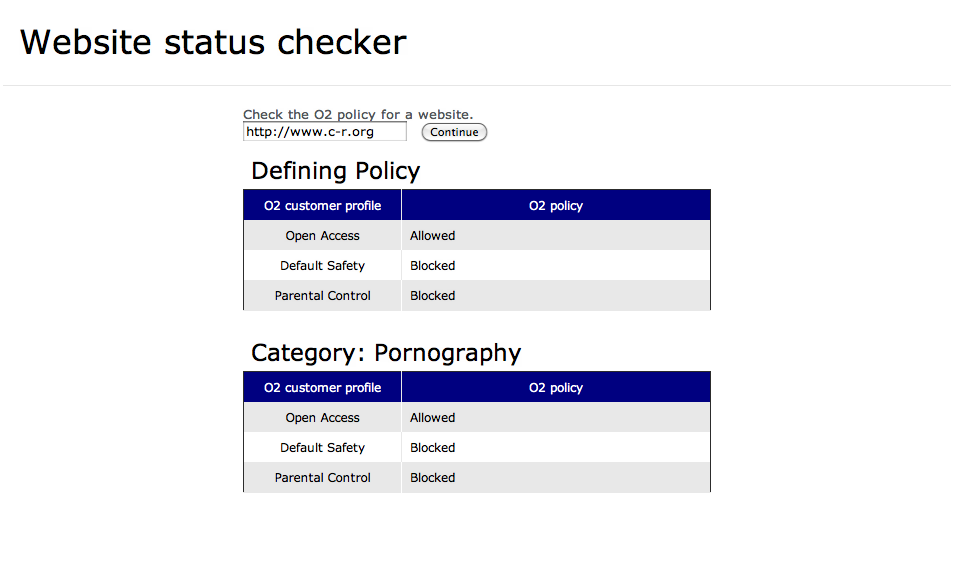 Here's what Conciliation Resources actually do:
"supports people at the heart of conflicts who are striving to find solutions. We work with them to deepen our collective understanding of the conflict, bring together divided communities and create opportunities for them to resolve their differences peacefully."
I had a look around the site, and I couldn't find any pornography. Or any reason why it would be a bad idea for a young person to have access to the site.
The group's funders (according to their accounts) have included the Department for International Development, the European Commission and the Joseph Rowntree Charitable Trust. One wonders how they would feel knowing that websites of organisations they fund are being caught by censorship systems here in the UK, and moreover, that this is because they are considered to be pornographic. 
This is clearly a mistake. But it demonstrates a key flaw with Internet filtering. It tends to block far too much content, both because the categories of blockable content are so broad (see Orange's categories) and because the systems doing the filtering make mistakes.
We will be publishing a report next week, jointly with the LSE Media Policy Project, which will detail the key problems with mobile networks' Internet filtering. It shows that this kind of over-blocking is by no means unusual. We've found political and personal blogs, restaurants' websites and community group sites caught by the filters.
This kind of problem is an inevitable byproduct of network level blocking. It creates an infrastructure that will, either through abuse or accident, deny people access to all sorts of legitimate content. 
All the previous independent reviews of this issue – including the one commissioned by this Government that reported only last year, and the two from Tanya Byron for the previous government – have recommended an 'active choice' approach, giving parents the decision about what tools to install. The evidence from academics such as Professor Sonia Livingstone from LSE points at proportionate response based on engaged parenting and clear choices about tools for managing internet access. This modern day Mary Whitehouse campaign is the lone voice that says otherwise. So we would welcome the mooted consultation.