17 Jun 2013 Jim Killock censorship
Jargon File blocked by O2, Youtube by Orange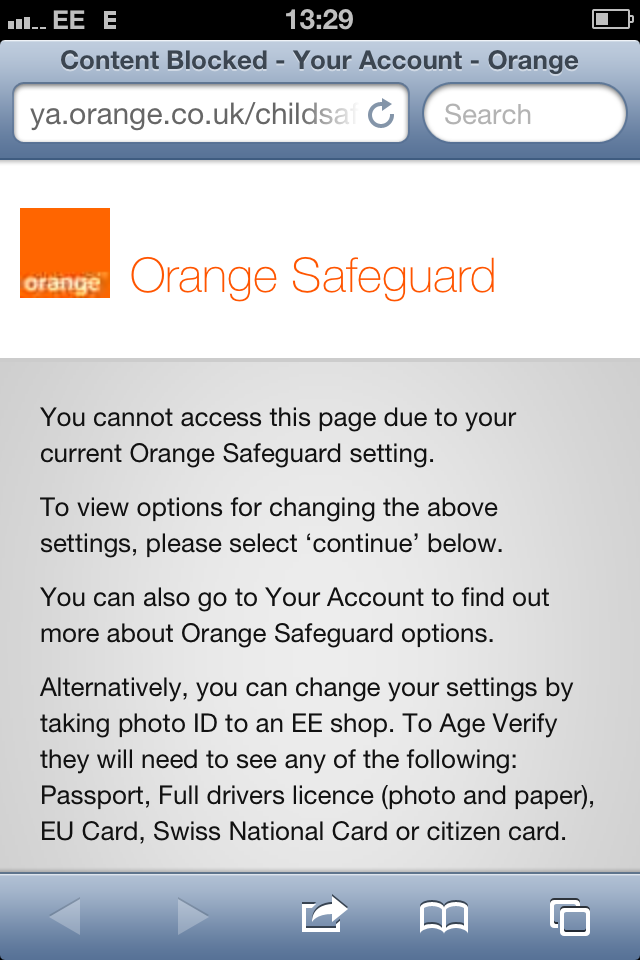 Report your blocks here. Please keep them coming! [Note: These blocks are happening on the mobile networks' child safety filtering services. These are switched on by default by all networks except Three. For more detail on mobile network filtering, see our report.]
Orange blocking Youtube videos
Orange are blocking Youtube as unsafe for children. Interestingly, this is the first time we've seen this site blocked by a major telco for child protection. The reasoning seems pretty poor. It shows the scale to which default blocks can adversely impact people. Musn't let kids watch the sneezing panda or Justin Bieber!
[UPDATE: Orange deny Youtube is blocked by Safeguard. We demo the block here; if you are on Orange and have Safeguard switched on, let us know what happens for you]
[Update 2: Orange block YouTube under the higher of two settings on their "Safeguard" child protection filters. Under the setting "Safeguard On", user generated content sites including YouTube and Twitter are blocked.  You can read a little more about these settings on the Everything Everywhere site. So this is deliberate blocking on the highest child safety filter, rather than an accidental or mistaken block for all users or for those on the "Safeguard Light" setting". The Safeguard Lite setting is switched on by default, whereas the Safeguard On setting is by choice.]
The Jargon File
Venerable Internet and Hacking slang guide, around since the 1970s the Jargon File is hosted by Eric S Raymond. It is currently blocked by O2, presumably because it is classed as a "circumvention" tool. Mustn't let kids learn how to use their computers!
However, a bug with the O2 URL checker means we can't check web pages with a tilda in them to see what the classification reasoning is, or to appeal it.
[UPDATE: using http://catb.org/%7Eesr/jargon/ shows it is blocked as "hacking")
Brains of Steel: blocked by O2
This is a personal blog and it is difficult to see why it is classified as 'self harm' by O2. But perhaps the talk of weight loss without dieting is picked up as pro-anorexia?
[Update, 20th June 2013: This has now been reclassified and unblocked on O2]
Campaign against political correctness 
Not really clear how the CAPC is harmful to children, but it is blocked by O2 as 'hate speech'. The campaign is backed by Philip Davies MP and Andrew Percy MP. Blocked by Orange and O2.
Luxury lingerie
Blocked by Vodaphone / Virgin mobile; allowed on Orange and O2. Sells lingerie but probably not much more pornographic than an average Argos catalogue.
Mari Thomas Jewellery
Online jewellery site Mari Thomas is blocked by O2 and Orange. O2 classify the site as an 'anonymiser', for reasons that are entirely unclear.
Another gift shop blocked over Christmas 
In January we wrote about how Orange had blocked another shop www.foreverandeternity.co.uk over December of last year. Despite reporting the block in early December it took a month to get it unblocked. The reason seemed to be that the site sold engraved lighters and was categorised as smoking related. The site was thus blocked at a key commercial moment. If blocking on such a broad scale becomes more widespread, who is liable?