Migrant Digital Justice Programme
ORG's work on immigration aims to empower the sector to work and campaign against the increasing collection of personal data, data sharing and new technologies driving immigration controls.
We work in partnership with organisations supporting all categories of migrants and refugees to address digital rights and privacy issues affecting their clients and understand how data sharing and new technologies are influencing immigration policy. We also facilitate collaborative initiatives and campaigns.
We also work with a range of stakeholders including government, the Home Office, Parliament, the Independent Chief Inspector for Borders and Immigration (ICIBI) to drive policy change.
This work builds on and is linked to the Immigration exemption campaign.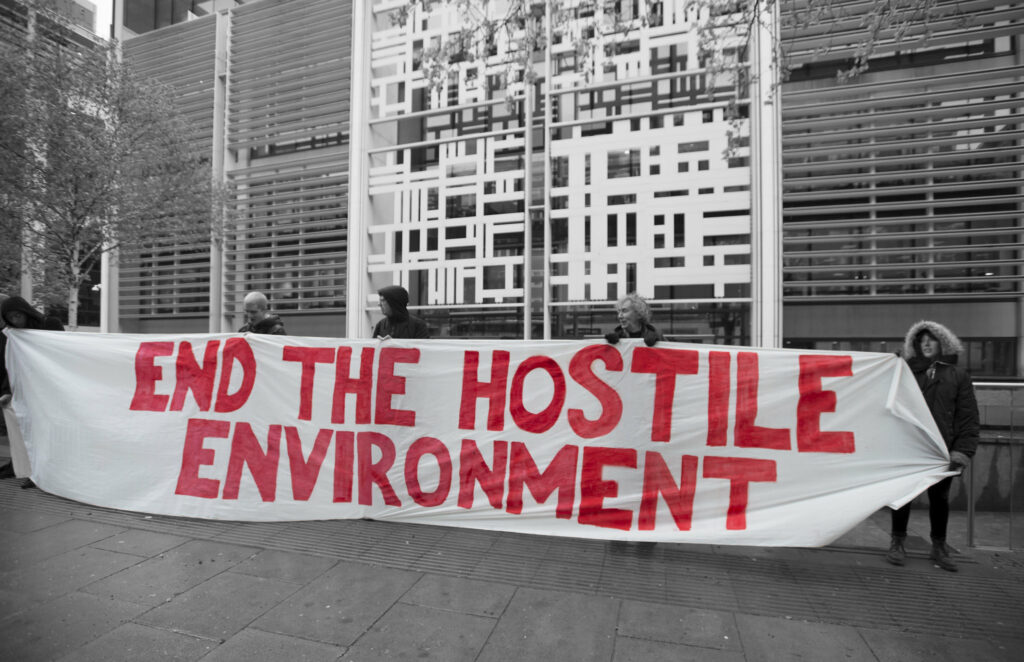 The hostile environment policy gives the Home Office sweeping powers and the mandate to access personal data from GPs, hospitals, schools, and job centres and use it to track down individuals for immigration detention or deportation.
Photo credit is David Mirzoeff / Global Justice Now
The Story So Far
---
---
---
---
ORG's work on immigration aims to empower the sector to work and campaign against the increasing collection of personal data, data sharing and new technologies driving immigration controls. We work in partnership with organisations supporting all categories of migrants and refugees to address digital rights and privacy issues affecting their clients and understand how data […]
---
ORG's work on immigration aims to empower the sector to work and campaign against the increasing collection of personal data, data sharing and new technologies driving immigration controls. We work in partnership with organisations supporting all categories of migrants and refugees to address digital rights and privacy issues affecting their clients and understand how data […]
---
ORG's work on immigration aims to empower the sector to work and campaign against the increasing collection of personal data, data sharing and new technologies driving immigration controls. We work in partnership with organisations supporting all categories of migrants and refugees to address digital rights and privacy issues affecting their clients and understand how data […]
---
ORG's work on immigration aims to empower the sector to work and campaign against the increasing collection of personal data, data sharing and new technologies driving immigration controls. We work in partnership with organisations supporting all categories of migrants and refugees to address digital rights and privacy issues affecting their clients and understand how data […]
---
ORG's work on immigration aims to empower the sector to work and campaign against the increasing collection of personal data, data sharing and new technologies driving immigration controls. We work in partnership with organisations supporting all categories of migrants and refugees to address digital rights and privacy issues affecting their clients and understand how data […]
---
ORG's work on immigration aims to empower the sector to work and campaign against the increasing collection of personal data, data sharing and new technologies driving immigration controls. We work in partnership with organisations supporting all categories of migrants and refugees to address digital rights and privacy issues affecting their clients and understand how data […]
---
ORG's work on immigration aims to empower the sector to work and campaign against the increasing collection of personal data, data sharing and new technologies driving immigration controls. We work in partnership with organisations supporting all categories of migrants and refugees to address digital rights and privacy issues affecting their clients and understand how data […]
---
ORG's work on immigration aims to empower the sector to work and campaign against the increasing collection of personal data, data sharing and new technologies driving immigration controls. We work in partnership with organisations supporting all categories of migrants and refugees to address digital rights and privacy issues affecting their clients and understand how data […]
---
ORG's work on immigration aims to empower the sector to work and campaign against the increasing collection of personal data, data sharing and new technologies driving immigration controls. We work in partnership with organisations supporting all categories of migrants and refugees to address digital rights and privacy issues affecting their clients and understand how data […]
---
ORG's work on immigration aims to empower the sector to work and campaign against the increasing collection of personal data, data sharing and new technologies driving immigration controls. We work in partnership with organisations supporting all categories of migrants and refugees to address digital rights and privacy issues affecting their clients and understand how data […]
---
ORG's work on immigration aims to empower the sector to work and campaign against the increasing collection of personal data, data sharing and new technologies driving immigration controls. We work in partnership with organisations supporting all categories of migrants and refugees to address digital rights and privacy issues affecting their clients and understand how data […]
---
ORG's work on immigration aims to empower the sector to work and campaign against the increasing collection of personal data, data sharing and new technologies driving immigration controls. We work in partnership with organisations supporting all categories of migrants and refugees to address digital rights and privacy issues affecting their clients and understand how data […]
---
ORG's work on immigration aims to empower the sector to work and campaign against the increasing collection of personal data, data sharing and new technologies driving immigration controls. We work in partnership with organisations supporting all categories of migrants and refugees to address digital rights and privacy issues affecting their clients and understand how data […]
---
ORG's work on immigration aims to empower the sector to work and campaign against the increasing collection of personal data, data sharing and new technologies driving immigration controls. We work in partnership with organisations supporting all categories of migrants and refugees to address digital rights and privacy issues affecting their clients and understand how data […]
---
ORG's work on immigration aims to empower the sector to work and campaign against the increasing collection of personal data, data sharing and new technologies driving immigration controls. We work in partnership with organisations supporting all categories of migrants and refugees to address digital rights and privacy issues affecting their clients and understand how data […]
---
ORG's work on immigration aims to empower the sector to work and campaign against the increasing collection of personal data, data sharing and new technologies driving immigration controls. We work in partnership with organisations supporting all categories of migrants and refugees to address digital rights and privacy issues affecting their clients and understand how data […]
---
ORG's work on immigration aims to empower the sector to work and campaign against the increasing collection of personal data, data sharing and new technologies driving immigration controls. We work in partnership with organisations supporting all categories of migrants and refugees to address digital rights and privacy issues affecting their clients and understand how data […]
---
ORG's work on immigration aims to empower the sector to work and campaign against the increasing collection of personal data, data sharing and new technologies driving immigration controls. We work in partnership with organisations supporting all categories of migrants and refugees to address digital rights and privacy issues affecting their clients and understand how data […]
---
ORG's work on immigration aims to empower the sector to work and campaign against the increasing collection of personal data, data sharing and new technologies driving immigration controls. We work in partnership with organisations supporting all categories of migrants and refugees to address digital rights and privacy issues affecting their clients and understand how data […]
---
ORG's work on immigration aims to empower the sector to work and campaign against the increasing collection of personal data, data sharing and new technologies driving immigration controls. We work in partnership with organisations supporting all categories of migrants and refugees to address digital rights and privacy issues affecting their clients and understand how data […]
---
ORG's work on immigration aims to empower the sector to work and campaign against the increasing collection of personal data, data sharing and new technologies driving immigration controls. We work in partnership with organisations supporting all categories of migrants and refugees to address digital rights and privacy issues affecting their clients and understand how data […]
---
ORG's work on immigration aims to empower the sector to work and campaign against the increasing collection of personal data, data sharing and new technologies driving immigration controls. We work in partnership with organisations supporting all categories of migrants and refugees to address digital rights and privacy issues affecting their clients and understand how data […]
---
ORG's work on immigration aims to empower the sector to work and campaign against the increasing collection of personal data, data sharing and new technologies driving immigration controls. We work in partnership with organisations supporting all categories of migrants and refugees to address digital rights and privacy issues affecting their clients and understand how data […]
More Information
10 December, 2020
Open Letter: Impact of the National Data Strategy on migrants and refugees
ORG's work on immigration aims to empower the sector to work and campaign against the increasing collection of personal data, data sharing and new technologies driving immigration controls. We work in partnership with organisations supporting all categories of migrants and refugees to address digital rights and privacy issues affecting their clients and understand how data […]
Find Out More
02 December, 2020
Immigration, Data and Technology: Needs and Capacities of the Immigration Sector
ORG's work on immigration aims to empower the sector to work and campaign against the increasing collection of personal data, data sharing and new technologies driving immigration controls. We work in partnership with organisations supporting all categories of migrants and refugees to address digital rights and privacy issues affecting their clients and understand how data […]
Find Out More
07 December, 2017
Immigration Exemptions: Government Position – Open Rights Group Response
ORG's work on immigration aims to empower the sector to work and campaign against the increasing collection of personal data, data sharing and new technologies driving immigration controls. We work in partnership with organisations supporting all categories of migrants and refugees to address digital rights and privacy issues affecting their clients and understand how data […]
Find Out More
07 December, 2017
Joint Briefing: Immigration Exemptions in the Data Protection Bill Need To Be Removed
ORG's work on immigration aims to empower the sector to work and campaign against the increasing collection of personal data, data sharing and new technologies driving immigration controls. We work in partnership with organisations supporting all categories of migrants and refugees to address digital rights and privacy issues affecting their clients and understand how data […]
Find Out More
Press Releases
26 May, 2021
Immigration Exemption judged unlawful, excessive, wrong by Court of Appeal
ORG's work on immigration aims to empower the sector to work and campaign against the increasing collection of personal data, data sharing and new technologies driving immigration controls. We work in partnership with organisations supporting all categories of migrants and refugees to address digital rights and privacy issues affecting their clients and understand how data […]
Find Out More
03 October, 2019
Open Rights Group and the3million seek to appeal immigration exemption judgment
ORG's work on immigration aims to empower the sector to work and campaign against the increasing collection of personal data, data sharing and new technologies driving immigration controls. We work in partnership with organisations supporting all categories of migrants and refugees to address digital rights and privacy issues affecting their clients and understand how data […]
Find Out More
24 July, 2019
Controversial 'immigration exemption' used in 60% of cases, court case reveals
ORG's work on immigration aims to empower the sector to work and campaign against the increasing collection of personal data, data sharing and new technologies driving immigration controls. We work in partnership with organisations supporting all categories of migrants and refugees to address digital rights and privacy issues affecting their clients and understand how data […]
Find Out More
09 May, 2018
Rights groups to take Government to court over shocking immigration exemption
ORG's work on immigration aims to empower the sector to work and campaign against the increasing collection of personal data, data sharing and new technologies driving immigration controls. We work in partnership with organisations supporting all categories of migrants and refugees to address digital rights and privacy issues affecting their clients and understand how data […]
Find Out More