Ending illegal online advertising
When you see an advertisement online, chances are that Real-Time Bidding advertising systems (RTB AdTech) have just auctioned your personal data to hundreds of companies vying for your attention. The highest bidder serves you their ad, but winners and losers alike collect your data and combine it with other datasets to build sophisticated profiles about you for future targeting.
Support our fight
Help us protect your data from illegal ads by taking the UK's privacy regulator to court.
Back our action now!
The problem with Real-Time Bidding
What kind of personal data do AdTech companies collect? Everything from your geolocation, political beliefs and sexual preferences to your browsing habits and information about your devices.
The General Data Protection Regulation (GDPR) grants individuals powerful data rights including the right to retrieve, delete or revoke consent for the personal data companies hold. When RTB systems broadcast your personal data to thousands of faceless companies, your data rights become impossible to use.
In 2018 ORG's executive director Jim Killock joined Dr. Johnny Ryan of Brave & Michael Veale of University College London in a joint complaint against Google and IAB. These companies provide what's known as the framework for authorised buyers that AdTech companies operate within.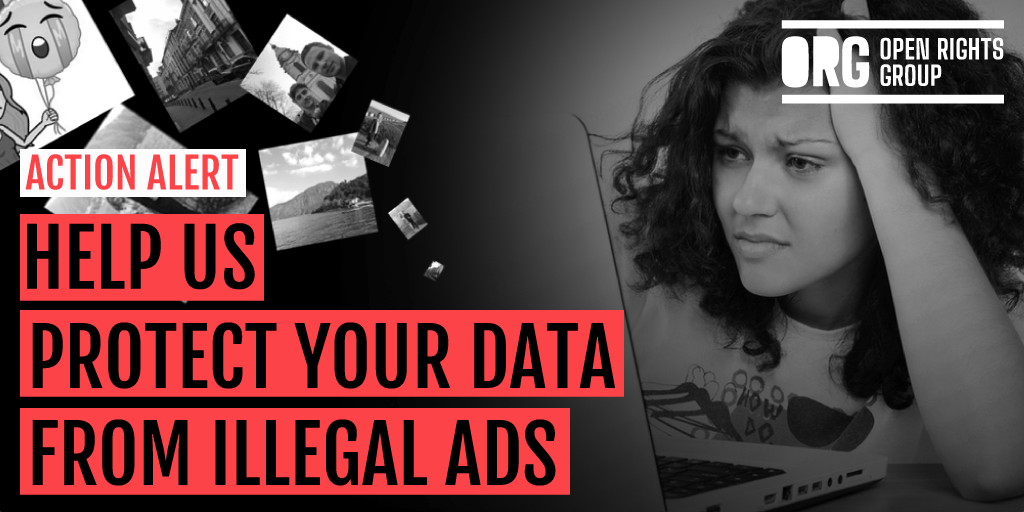 In a major win, the Information Commissioner's Office (ICO) responded to the complaint in June 2019 agreeing that RTB's collection of data is "taking place unlawfully at the point of collection."
Despite agreeing with the central argument of the complaint, the ICO has failed to enforce the law. In May 2020, a year and half after the initial complaint, the ICO announced it was pausing its investigation so as not to put extra pressure on the advertising industry during Covid-19. Then they dropped the investigation altogether. In early 2021 the ICO's investigation into AdTech resumed, yet inexplicably our complaint remained closed.
Open Rights Group is now taking the ICO to court. Support our legal action today.
The Story So Far
---
---
On Tuesday, the Information Commissioner Elizabeth Denham will appear in front of the DCMS Committee for a hearing, where she will be questioned about her office's role in protecting personal data against targeted online advertising, and the use of personal data for tackling the coronavirus pandemic.
---
More Information
14 January, 2020
Letter to ICO re Out Of Control report
Information Commissioner Wycliffe HouseWater Lane, Wilmslow Dear Elizabeth Denham, Re: The adtech industry is not respecting consumers' privacy We would like to bring to your attention a report published on January 14th by the Norwegian Consumer Council, which looks into the hidden side of the data economy.
Find Out More
Press Releases
22 January, 2021
ICO INVESTIGATES ADTECH WITHOUT ORG COMPLAINT
Responding to ICO's announcement today that the regulator is resuming invetigation of massive data breaches taking place in the online ad industry through "Real-Time Bidding", ORG explain that this shows the ICO is wrong to have closed complaints by Jim Killock and Michael Veale against Adtech earlier this year.
Find Out More