Secure the privacy of your phone messages

The Online Safety Bill requires ALL online speech to be monitored for "harmful content", including the private conversations you have on your phone with friends and family. Companies like Whatsapp and Signal will be required by law to break end-to-end encryption, so the Government can automatically scan your messages.
They say encryption is dangerous, but the opposite is true. Encryption keeps your information and transactions safe from criminals. It ensures your private messages stay private. If the UK Government can break encryption to read your messages, that means scammers, hackers and foreign governments can too.
Save encryption, Protect the security of your phone
Join our campaign to ensure the Online Safety Bill preserves encryption and free expression online.
Write to your MP today
If they get their way, your phone will be turned into a spy in your pocket. Billions of personal messages will be ready to be hacked, sold and exploited. The Government's plan to access your private messages will help criminals and make us less safe.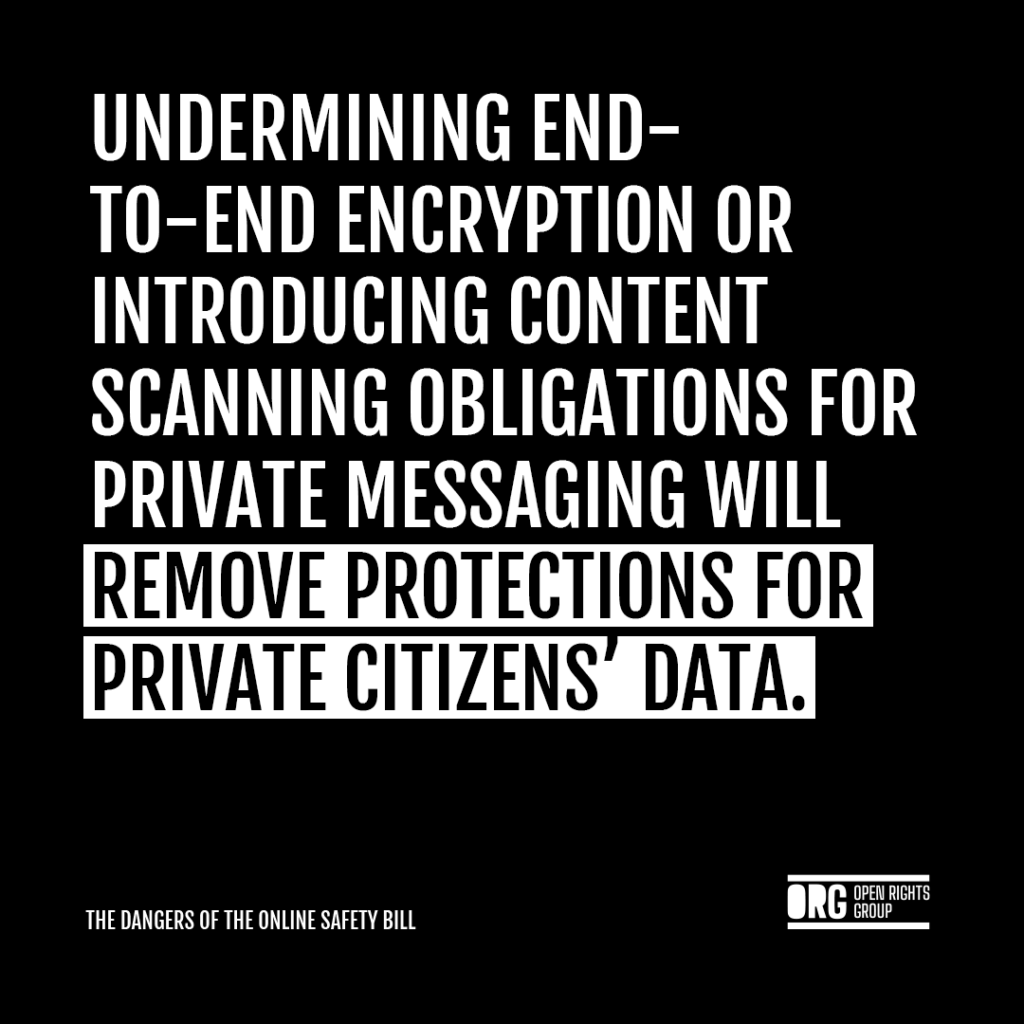 The Story So Far
---
---
---
---
The Online Safety Bill requires ALL online speech to be monitored for "harmful content", including the private conversations you have on your phone with friends and family. Companies like Whatsapp and Signal will be required by law to break end-to-end encryption, so the Government can automatically scan your messages. They say encryption is dangerous, but […]
---
The Online Safety Bill requires ALL online speech to be monitored for "harmful content", including the private conversations you have on your phone with friends and family. Companies like Whatsapp and Signal will be required by law to break end-to-end encryption, so the Government can automatically scan your messages. They say encryption is dangerous, but […]
---
The Online Safety Bill requires ALL online speech to be monitored for "harmful content", including the private conversations you have on your phone with friends and family. Companies like Whatsapp and Signal will be required by law to break end-to-end encryption, so the Government can automatically scan your messages. They say encryption is dangerous, but […]
---
The Online Safety Bill requires ALL online speech to be monitored for "harmful content", including the private conversations you have on your phone with friends and family. Companies like Whatsapp and Signal will be required by law to break end-to-end encryption, so the Government can automatically scan your messages. They say encryption is dangerous, but […]
---
The Online Safety Bill requires ALL online speech to be monitored for "harmful content", including the private conversations you have on your phone with friends and family. Companies like Whatsapp and Signal will be required by law to break end-to-end encryption, so the Government can automatically scan your messages. They say encryption is dangerous, but […]
---
The Online Safety Bill requires ALL online speech to be monitored for "harmful content", including the private conversations you have on your phone with friends and family. Companies like Whatsapp and Signal will be required by law to break end-to-end encryption, so the Government can automatically scan your messages. They say encryption is dangerous, but […]
---
The Online Safety Bill requires ALL online speech to be monitored for "harmful content", including the private conversations you have on your phone with friends and family. Companies like Whatsapp and Signal will be required by law to break end-to-end encryption, so the Government can automatically scan your messages. They say encryption is dangerous, but […]
---
The Online Safety Bill requires ALL online speech to be monitored for "harmful content", including the private conversations you have on your phone with friends and family. Companies like Whatsapp and Signal will be required by law to break end-to-end encryption, so the Government can automatically scan your messages. They say encryption is dangerous, but […]
---
The Online Safety Bill requires ALL online speech to be monitored for "harmful content", including the private conversations you have on your phone with friends and family. Companies like Whatsapp and Signal will be required by law to break end-to-end encryption, so the Government can automatically scan your messages. They say encryption is dangerous, but […]
More Information
27 April, 2022
Online Safety Bill Second Reading briefing
The Online Safety Bill requires ALL online speech to be monitored for "harmful content", including the private conversations you have on your phone with friends and family. Companies like Whatsapp and Signal will be required by law to break end-to-end encryption, so the Government can automatically scan your messages. They say encryption is dangerous, but […]
Find Out More
07 February, 2022
Experts challenge Govt's anti-encryption campaign
The Online Safety Bill requires ALL online speech to be monitored for "harmful content", including the private conversations you have on your phone with friends and family. Companies like Whatsapp and Signal will be required by law to break end-to-end encryption, so the Government can automatically scan your messages. They say encryption is dangerous, but […]
Find Out More