Jeremy Wright needs to act to avert disasters from porn age checks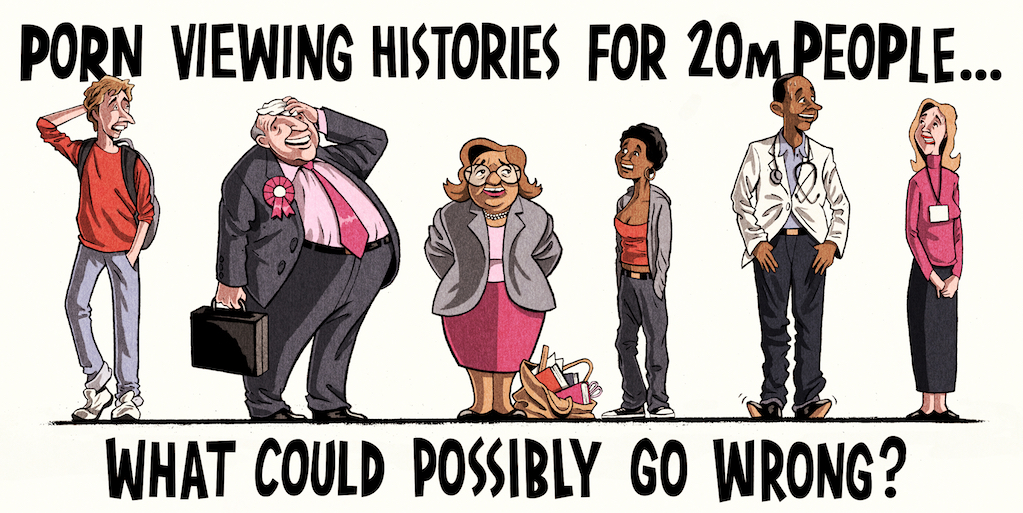 The government rejected Parliamentary attempts to include privacy powers over age verification tools, so DCMS have limited possibilities right now. Last summer, BBFC consulted about their draft advice to website operators, called Guidance on Age Verification Arrangements. That consultation threw up all the privacy concerns yet again. BBFC and DCMS agreed to include a voluntary privacy certification scheme in response.
Unfortunately, there are two problems with this. Firstly, it is voluntary. It won't apply to all operators, so consumers will sometimes benefit from the scheme, and sometimes they won't. It is unclear why it is acceptable to government and the BBFC that some consumers should be put at greater risk by unregulated products.
There is nothing to stop a an operator from leaving the voluntary scheme so it can make its data less private, more shareable, or more monetisable. It's voluntary, after all.
Secondly, the scheme is being drawn up hastily, without public consultation. It is a very risky business for a regulator to produce a complex and pivotal security and privacy standard with a limited field of view. It is talking to vendors, but not the public who are going to be using these products. Security experts, of whom there are many who might help, are unable to engage.
This haste to create a privacy scheme seems to be due to the desire of government to commence age verification as fast as possible. That risks the privacy standard being substandard, and effectively misleading to consumers, who will assume that it provides a robust and permanent level of protection.
DCMS and Jeremy Wright could solve this right now
They need to do two things:
Tell industry that government will legislate to make the Privacy Certification scheme compulsory;

Announce a public consultation on BBFC's Privacy Certification scheme.
That may involve a short delay to this already delayed scheme. But that is better, surely, than risking damage to the privacy, personal lives and careers of millions of UK people regularly visiting these websites.