Events this week showed just why we need our members: four House of Lords peers attempted to sneak the Snooper's Charter into law. The CTSB was the law being debated, but they tried adding a completely separate Bill, one that has already been rejected into the text of this one, as though it was just a small change.   Reviving the discredited Communications Data Bill would have been bad enough but trying to sneak it through Parliament without proper scrutiny is a shocking abuse of our democratic processes.
Thanks to a quick response by ORG supporters, we managed to demonstrate to members of the House of Lords what a bad idea this would be, and the ammendments didn't pass by quietly. There were strong speeches against them from across the House against it. The amendments were withdrawn for now, but we're ready to fight if these amendments re-appear at the report stage of the Counter Terrorism and Security Bill (the next opportunity they have to make changes).
It's not over.
We're ready to fight if these amendments re-appear at the report stage of the Counter Terrorism and Security Bill (the next opportunity they have to make changes). And if the Lords are trying to force the Home Office to publish a new version of the Communications Data Bill, we'll fight that too. We've seen off the Snoopers' Charter once and, with your help, we can do it again. And again. And again.
We want the parties to tell us what their election promises for surveilance are. Over the next three months, we need to make sure that your privacy is on the agenda so we can decide what kind of rights and freedoms we want Britain to have. In this critical election year we need your help more than ever, so that all our rights are defended here in the UK.
Can you help us again and ask you friends to join us in campaigning this year?
https://www.openrightsgroup.org/join
We have a huge goal to reach this year: 300 new members which will make it possible for us to run a strong pro-privacy campaign at the General Election.
To thank you for the effort we are offering rewards for the sign-ups which come through from your link. They are little gifts that celebrate being creative and fun with technology: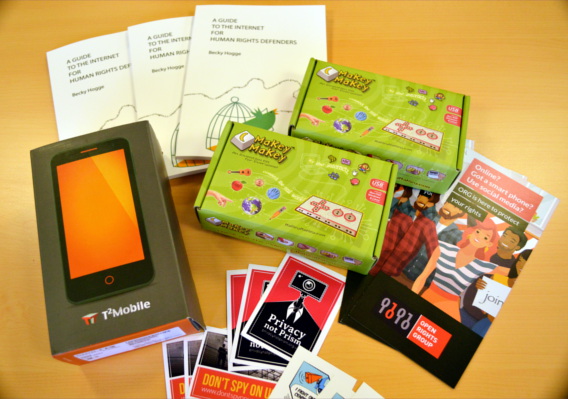 1 friend signed up = Becky Hogge's book, A Guide to the Internet for Human Rights Defenders
3 friends signed up = A Build Your Own Synthesiser kit from Pimoroni
5 friends signed up = MakeyMakey, an invention kit to turn everyday objects into touchpads

The most friends signed up? Mozilla have donated us their Firefox Flame Smartphone (brand new & not available in the UK) as a thank you for the person who signs the most friends up.
To be counted either insert your name at the end of this url, and direct people to it https://secure.edirectdebit.com/Open-Rights-Group/Join-us2/?ref=yourname

Or if you would like to share our join page without any reference, ask them to put your name in the 'reasons why I joined' box on the join form. It's at https://www.openrightsgroup.org/join or use these links:
I will do everything I can to help you recruit, so please do get in touch with me if you have any questions or ideas for supporting our membership drive.
At the 2015 General Election we all have the power to influence the future. It's a moment of urgency, but also an opportunity to put the pressure on like never before to make the next Government protect our rights online.
We've just reached 100 new members and are a third of our way towards our goal. Can just help us make the next big jump?
Thank you for helping ORG grow in defending digital rights. When we hired our Legal Director you stepped up and helped us by asking your friends to join: a year on we can see how effective that was as we've had major changes come about from our legal work, especially in making web censorship more transparent and in challenging the legality of surveillance legislation in the courts.