Our busiest year so far – and what lies ahead…
Today I'm proud to release ORG's annual Review of Activities [.pdf]. It's been a bumper year for digital rights. From HMRC posting half the nation's bank details to the Darknet, to the ongoing campaign against Phorm, to three strikes and the rightsholder lobby's so-far thwarted attempt to take control of your internet connection, this year was the year digital rights went mainstream. Thanks to generous support from the ORG community, we've been there giving an informed perspective on the issues to the natonal press, working with policymakers behind the scenes and mobilising the grassroots into effective action.
As ORG Chair William Heath writes in his foreword to the review:
"Built on the enthusiasm and promise of people who live, work, play, socialise and create online, ORG is a celebration of the emerging possibilities that technology and the internet offer us. ORG exemplifies that social activism which brings out the very best people have to offer: expertise, creativity, energy, and professionalism – and none of this ever without humour.

"Behind this lies an irrepressible motivation. The ORG community knows there are real abuses of our rights online, and real threats to our information society."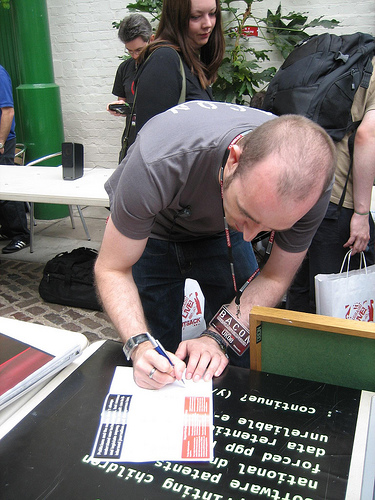 Threats to our digital liberties continue to menace us. 2009 will see new challenges, such as the Government's proposed Intercept Modernisation Programme. That's why, as we celebrate ORG's third birthday, we're also asking the community to renew their support for ORG. The ORG-GRO campaign is delivering excellent results (huge thanks to all the people who have contributed so far). But the leap from 750 to 1000 fivers received each month is not yet enough to guarantee us long term financial stability. We must reach our target of 1500 fivers before the end of the year. And we can't do that without you.
So please, if you're not an ORG supporter, become one today. And if you are, and can afford to up your monthly donation, please consider doing so. As our Review of Activities demonstrates, you'll get a lot of bang for your buck. If money's tight, then remember talk is cheap. How many people that would like to join the ORG community could you email right now? If you're sat in an office, how many of the people around you could you recruit before lunch? Why not spam your mates/make your colleagues a cup of tea and find out?
Finally, thanks to all the people – Advisory Council, Board, volunteers, staff – who have contributed mentally and physically to ORG's activities this year. ORG couldn't exist without you. I hope you enjoy reading about what ORG's been up to. You can download the report here, or read the html version.
Happy Birthday ORG!