Update #3: Raffle is now closed! See you tonight!
Update #2: Less than 24 hours now until we close the raffle (tomorrow, noon), so get buying your tickets!
Update: more prize donations – signed copies of Lawrence Lessig's Code v2 and Andrew Gowers' Review of IP, and £150 worth of O'Reilly vouchers!
Oh you lucky, lucky people… here comes the inaugural ORG raffle! Tickets are £2.50 each and make excellent Easter gifts.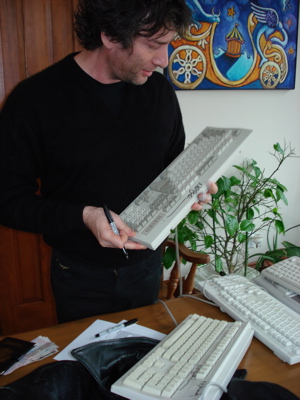 Prizes include Neil Gaiman's (signed) keyboard, a signed copy of Bruce Schneier's Beyond Fear, a set of a dozen Beatpick compilations and a couple of extra special Doctorow donations: a signed author's galley of his next novel, Little Brother (forthcoming in 2008), and the opportunity to be written into it!
We'll make the draw as part of our spectacular 'Support ORG! (and Party)' 11 April event. All advance purchases (we'll close the paypal interface an hour or two before the party) will be assigned a paper ticket, then added together with tickets sold on the night for the grand draw, to be selected by our yet-to-be-disclosed special guest.
And if you haven't registered to attend Support ORG! (and Party) yet, get to it!