ORG @ Conservatives conference 2007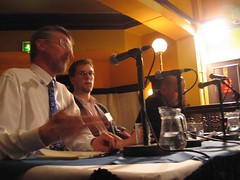 Our e-Voting campaign tour reached its triumphant climax this week in Blackpool. Jonathan Djanogly MP, the Shadow Solicitor General who was hugely complimentary about our work, joined Jason and the Electoral Commission on our panel to discuss the ills of electronic elections.
As in Brighton with the Lib Dems and in Bournemouth with Labour, the vast majority of delegates we spoke to and who attended our event agreed with our approach to the issue. Questions from the floor revealed concerns with accessibility, future developments in cryptography and also the lack of trust in the existing, paper-based system. Some attendees even took our printed materials back to their local parties to help spread the word.
The audio recording is available for download in both ogg vorbis and mp3 format. Or, listen below via the embedded media player. There's also a few more photos on flickr.
Thanks again to the JRRT, which funded this campaign; to Jason for leading our work on this issue; to William for expertly chairing the conference sessions and to the election observers who worked so hard to put together our elections report. ORG is already looking forward to the 2008 conference season!