Today (14 June) Open Rights Group has joined over thirty digital and human rights organisations in calling on MPs to keep their constituents safe by protecting end-to-end encryption from legislative threats.
The open letter to MPs comes in the context of the draft Online Safety Bill, which seeks to undermine and, in some cases, even prohibit and criminalise the use of end-to-end encryption. Recent messaging strategies promoted by government and the media have openly sought to associate end-to-end encryption with child abuse, and to imply that companies which use it are aiding and abetting child exploitation.
End-to-end encryption is a basic and essential security protocol. It means that your personal data – including family photographs, messages to friends and family, financial information, connected home devices, and education and homework – can all be kept safe from interception and misuse by governments, companies, and malicious actors. Indeed, over the course of the pandemic, end-to-end encryption is the singlemost important technical capability which has allowed us to work from home, educate our children, keep in touch with our families and friends, and keep the country running. End-to-end encryption also protects the sensitive data used by government and the state, including the services that MPs rely on every minute of every day.
Yet the Online Safety Bill contains clauses which will introduce requirements for companies to scan our private and personal messages for evidence of criminal wrongdoing. In order to do this, the use of end-to-end encryption is likely to be defined as a violation of the law. And companies operating in the UK who want to continue to defend user privacy through end-to-end encryption could, under the draft Bill, be threatened with partial shutdowns, being blocked from the UK, or even personal arrests.
For British businesses operating online, and for those outside the UK who serve UK customers, the obligation to intercept and scan their customers' messages for presumed criminality will remove privacy protections from those who need it the most. And with end-to-end encryption criminalised, data flows will become easily interceptable and subject to misuse, making the UK an unsafe place to do business. It's likely that many essential services will block UK customers, or leave the UK altogether, rather than be compelled to act as state snoopers over insecure data flows.
With our daily lives now reliant on online services, and with more people than ever falling prey to criminals online, now is not the time for the UK to undertake a misguided policy experiment which will put its own citizens at greater risk. MPs should stand up for their constituents' safety and ensure that private messaging, and end-to-end encryption, are safeguarded in upcoming legislation.
The open letter (pictured below) has been published this morning in The House magazine. The full campaign is available to view at the Global Encryption Coalition.
We call on Parliament to ensure that end-to-end encryption must not be threatened or undermined by the Online Safety Bill, and that services utilising strong encryption are left out of the Bill's content monitoring and filtering requirements.
We also call on the Home Office to explain how it plans to protect the British public from criminals online when it is taking away the very tools that keep the public safe.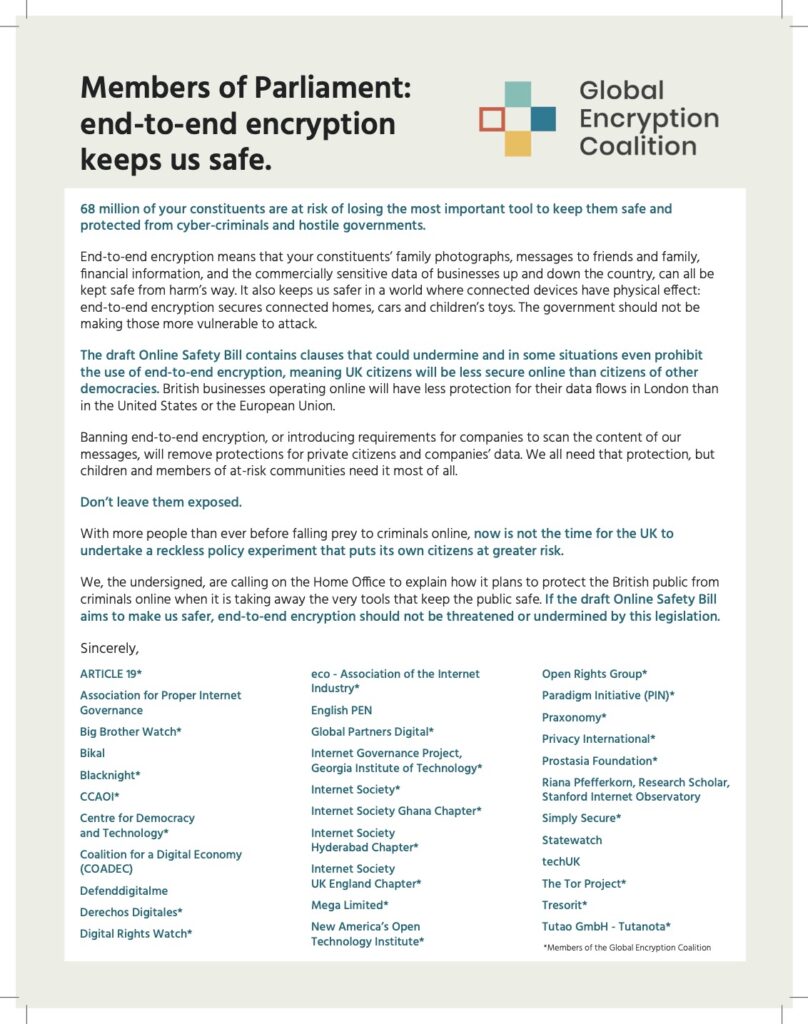 Hear the latest
Sign up to receive updates about Open Rights Group's work to protect digital rights.
Subscribe