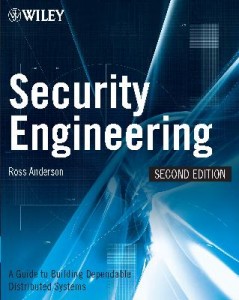 The good news is that our supporter recruitment drive is continuing apace. The fundometer is currently showing a winsome 881 and more supporters are joining up every second of every minute of every day (well, sort of). The great news is that lovely bloggers are encouraging their readers to donate to ORG by writing nice things about us. Seems our fiendish offer of t-shirts and hardware is working a treat. Other kindly folks are auctioning exclusive goodies to donate the proceeds to Open Rights.
The very best news is that Professor Ross Anderson of FIPR has generously promised us three signed copies of the new edition of his epic book Security Engineering to lure in new supporters. Thanks, Ross! To be in with a chance of securing your copy, just sign up and write 'I love Ross' in the 'How you heard about ORG' field. We'll give books to the three new supporters whose donations reach us first.
For those not yet familiar with this mighty work, a testimonial from Bruce 'security guru' Schneier should interest you: "If you're even thinking of doing any security engineering, you need to read this book." Another clear sign of its quality is a reference to our 2007 Elections Report. Want to find out more? Best join up then.