Google or CTIRU: who is fibbing about terror takedowns?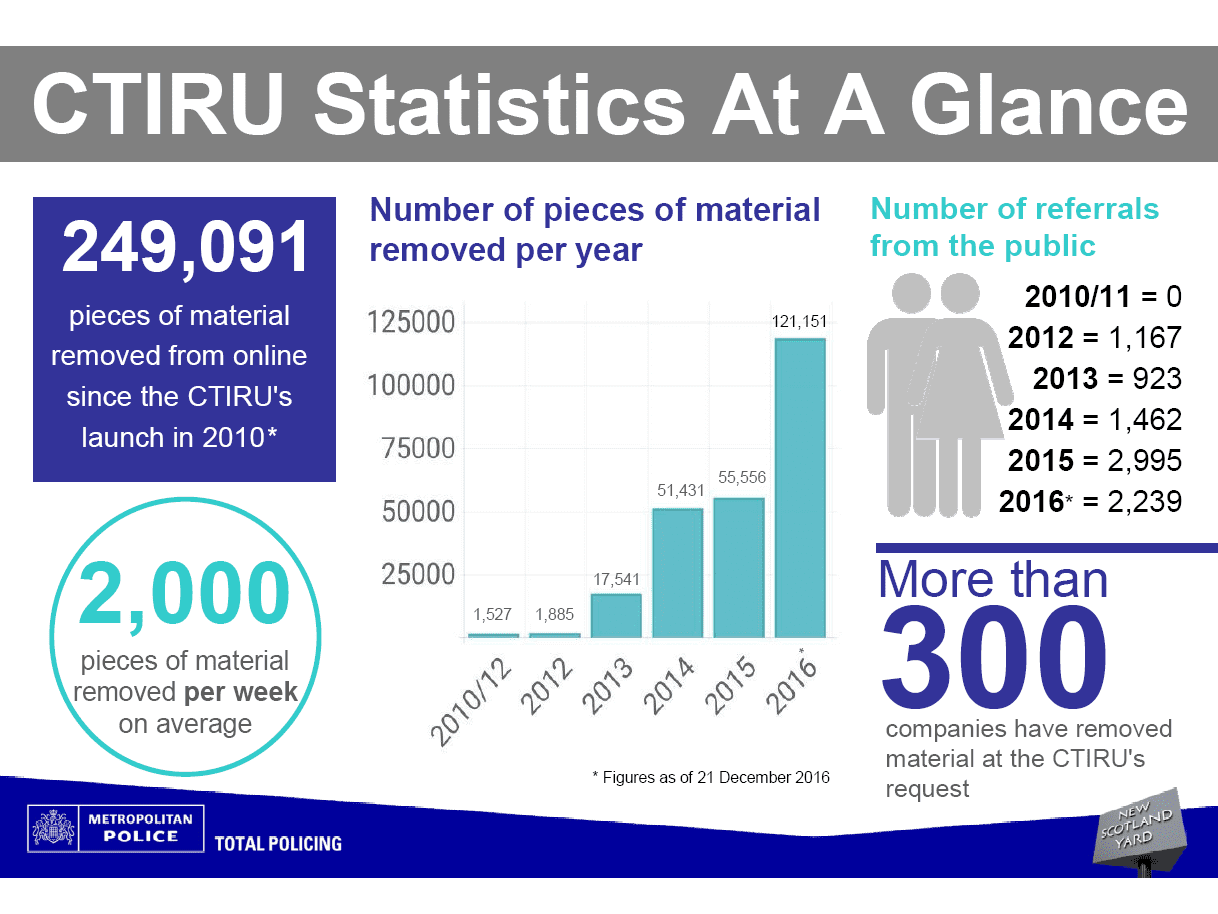 These referrals, to Google, Facebook and others, come from a unit hosted at the Metropolitan Police, called CTIRU, or the Counter-Terrorism Internet Referrals Unit. This unit has very minimal transparency about its work. Apart from claiming to have removed over 300,000 pieces of terrorist-related content over a number of years, it refuses to say how large its workforce or budget are, and has never defined what a piece of content is.
Google and Twitter publish separate takedown request figures for the UK that must be largely from CTIRU. The numbers are much smaller than the tens of thousands that might be expected at each platform given the CTIRU figures of around 100,000 removals a year. For instance, Google reported 683 UK government takedown requests for 2,491 items through Jan-June 2017.
Google and Twitter's figures imply that CTIRU file perhaps 2,000-4,000 removal requests a year, for maybe 12,000 items at most, implying a statistical inflation by CTIRU of around 1,000%.
A number of CTIRU requests have been published on the takedown transparency database Lumen. These sometimes have more than one URL for takedown. However this alone does not explain the disparity.
Perhaps a 'piece of terrorist content' is counted as that 'piece' viewed by each person known to follow a terrorist account, or perhaps everything on a web page is counted as a piece of terrorist content, meaning each web page might contain a terrorist web font, terrorist Javascript and terrorist CSS file.
Nonetheless, we cannot discount the possibility that the methodologies for reporting at the companies are in some way flawed. Without further information from CTIRU, we simply don't know whose figures are more reliable.
There are concerns that go beyond the statistics. CTIRU's work is never reviewed by a judge, and there are no appeals to ask CTIRU to stop trying to remove a website or content. It compiles a secret list of websites to be blocked on the public estate, such as schools, departmental offices or hospitals, supplied to unstated companies via the Home Office. More or less nothing is known: except for the headline figure.
Certainly, CTIRU do not provide the same level of transparency as Google and other companies claim to be providing. 
People have tried extracting further information from CTIRU, such as the content of the blacklist, but without success. Ministers have refused to supply financial information to Parliament, citing national security. ORG is the latest group to ask for information, for a list of statistics and a list of documents; turned down on grounds of national security and crime prevention. In the case of statistics, CTIRU are currently claiming they hold no statistics other than their overall takedown figure; which if true, seems astoundingly lax from even a basic management perspective.
The methodology for calculating CTIRU's single statistic needs to be published, because what we do know about CTIRU is meaningless without it. Potentially, Parliament and the public are be being misled; or otherwise, misreporting by Internet platforms needs to be corrected.