Digital Surveillance: how to avoid another Snoopers' Charter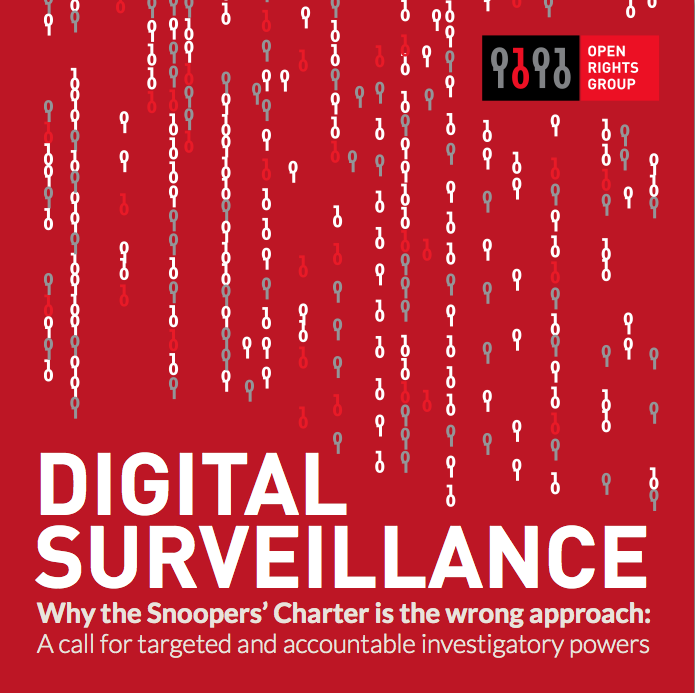 Following Nick Clegg's rejection of the Snoopers' Charter, our new report brings together leading Internet experts, lawyers and campaigners to offer credible, less intrusive alternatives to the Home Office's Communications Data Bill. The authors make a call for more targeted, more transparent and more accountable surveillance laws and offer a number of useful recommendations for how to achieve this.
In attendance at our launch at 2pm will be Jim Killock, Nick Pickles (Director – Big Brother Watch), Rachel Robinson (Policy Director – Liberty), Angela Patrick (Director of Human Rights Policy – JUSTICE), Duncan Campbell (investigative journalist), Professor Peter Sommer (Visiting Professor – De Montfort University) and Richard Clayton (University of Cambridge). 
Our new report demonstrates that surveillance policy makers have options, many of which are a lot less intrusive than the powers proposed by the Snoopers' Charter, and that civil society is open to meaningful engagement about surveillance laws in the digital age. It is written for a general audience by leading experts, academics and representatives of a number of civil society groups. The articles in this publication serve as an example of the sort of conversations that would be possible through a proper public debate about what information should be collected and who should have access to it.
The report has 10 final recommendations:
Hold an overarching review, potentially through a Royal Commission, to properly study surveillance in the digital age.
Judicial oversight of requests for intrusive communications data, in particular for all traffic data requests.
Choose 'data preservation' rather than blanket data retention. Include quick response and emergency processes, and means to intelligently and accountably identify targets.
Create a unified Surveillance Commissioner capable of carrying out a strong, independent audit with "multi-skilled investigators including human rights and computer experts."
Reject vague proposals, such as those in the draft Communications Data Bill, for automated, pervasive analytics tools designed to trawl through and across datasets.
Provide stringent penalties for misuse of either powers or data. 
Individuals should be notified by default of a decision authorising the request for their communications data.
Lift the ban on the use of intercept evidence in court.
Invest in law enforcement's capacity to use and analyse the data already available to them.
Use the International Principles on Communications Surveillance and Human Rights developed by Privacy International and other groups as a template for future laws.
In chapter one, Duncan Campbell sets out the history of the tension between state surveillance and efforts to protect individuals' privacy. He explains why the draft Communications Data Bill is "the latest chapter in the history of British state surveillance." He also tells the parallel story of efforts to keep surveillance powers in check, including the 1972 Royal Commission on Privacy which "set out 10 principles of data protection that later underpinned data protection statutes in Europe and the UK."
In chapter two Angela Patrick, Director of Human Rights Policy at JUSTICE, gives an overview of the current settlement between the law, surveillance and the protection of privacy. She looks at how the draft Communications Data Bill could exacerbate problems with existing surveillance law, for example relating to oversight and complexity. She highlights that the overriding difference between the draft CDB and the existing law is the move "away from the presumption that for limited purposes, the State may access data already retained or reasonably obtainable by service providers…Instead, it creates a statutory basis for the generation, collection and retention of data about us all."
In chapter three, Richard Clayton outlines in detail key surveillance technologies, showing what information about us is available and how the technology to gather and access it works. He outlines how the 'filter' – a key part of the CDB proposals – will work. By correlating information from multiple sources, he explains how the filter can answer complex queries. For example, he suggests that "the source of an embarrassing leak could be identified by cross-correlating records to pick out exactly who in Whitehall sent out an email whose reception by a journalist triggered an immediate call to the relevant newspaper editor."
Peter Sommer, in chapter four, argues that while surveillance law "is about balancing competing objectives", a number factors inhibit "sensible and balanced discussion". They include the pace of technological change, the demands of the law enforcement community, the level of technical and legal expertise required to understand how best to respond, and the fear of getting it wrong.
Chapter five features contributions from a range of experts setting out how more privacy-friendly surveillance policy could work.
For example, Caspar Bowden suggests how 'data preservation' policies could work to limit whose data is collected. Sam Smith from Privacy International argues that more could be done to help law enforcement make better use of what information is already available. Rachel Robinson from Liberty recommends lifting the ban on the use of intercept evidence in court, and Peter Sommer calls for a Royal Commission into surveillance laws in the digital age.
In our conclusion we draw together these contributions and make some recommendations for future surveillance policy making.
Read more