Capturing the database state: community photocall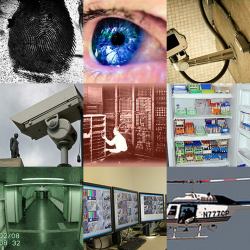 Happy-snappers unite! We need as many people as possible to take photos of stuff that embodies the database state, and the UK's world-famous surveillance society (wake up! You've just walked into it).
On 11 October, No2ID and the Open Rights Group will make a live collage of the images you've taken in a prominent location in London (to be confirmed), to celebrate Freedom Not Fear Day 2008.
Freedom not Fear is an international day of action for democracy, free speech, human rights and civil liberties, and events to celebrate these central tenets of a just society will be taking place all over the world.
Here's how you can help:
Spot something that embodies the UK's wholesale transformation into the surveillance society/database state. Subjects might include your local CCTV camera(s), or fingerprinting equipment in your child's school library
Snap it
Upload it to Flickr and tag it "FNFBigPicture" – please use an Attribution Creative Commons license*
That's it!
*We need you to license it this way because we want to give the image to newspapers to run on the day.
Watch this space for more news on the 11 October event, including how to come and help build the collage.
Click here and here for photo credits.