Baroness Ludford amendment – opening the door to FISAAA?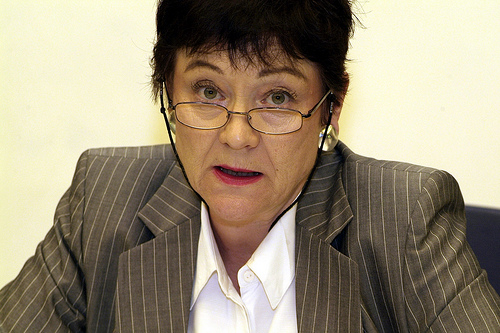 Baroness Ludford, by ALDE, cc-by-nc-sa
The UK Liberal Democrat MEP Baroness Ludford has recently published an article in LibDem Voice accusing the Open Rights Group of "overreacting" to a letter she had written to the Financial Times.
In late March ORG wrote an article for the same Lib-Dem blog pointing out that in her letter to the Financial Times, the Baroness had failed to mention the interests of citizens. Instead Baroness Ludford highlighted the well-known concerns of some technology companies – roughly, that the new rules will stifle internet businesses.
But there is more to our concern than the contents of that letter. The Baroness proposed 113 amendments to the draft Regulation [Correction 12/6: the correct number is 129]. You can read all of them on Parltrack. (We'll be putting up an analysis of more of these shortly). These include proposals that we believe would severely undermine people's privacy rights and leave them with less control over their data. 
For instance, the Baroness is behind amendment number 1210.
This removes the right to know if your data might be transferred to a third country or international organisation.  It does this by deleting the following bit of the proposed Regulation:
Article 14 – paragraph 1 – point g
(g) where applicable, that the controller intends to transfer to a third country or international organisation and on the level of protection afforded by that third country or international organisation by reference to an adequacy decision by the Commission;
It hardly needs spelling out given the recent news about PRISM and state surveillance, but knowing which companies or countries your data might be moved to is likely to increasingly be a fundamental consideration for someone deciding whether to share personal data.
EDRi challenged Baroness Ludford on Twitter to withdraw this amendment in light of the PRISM revelations, yet she refuses to do so:
@EDRi_org: .@SarahLudfordMEP Will you withdraw your AM 1210 that removes obligations to inform if data will be transferred abroad? #prism #eudatap

@SarahLudfordMEP: @EDRi_org: prob is that it's not only 'transferred' data at risk of FISA orders. Glad @VivianeRedingEU pressing Holder, long overdue

@EDRi_org: .@SarahLudfordMEP You won't withdraw AM1210? You seriously want to create a right to export data without telling anyone? #eudatap #prism
This is one reason that we do not believe that ORG and Privacy International have been overreacting, as the Baroness suggested. The Baroness has proposed some of the most damaging amendments we have seen, potentially weakening the definition of consent, creating quite broad loopholes permitting the use of data without consent, and reducing the information people receive when data about them is collected. 
It was no real surprise to see that the Baroness was recently ranked sixth on the list of MEPs who had proposed the most damaging amendments following analysis reported on the website LobbyPlag.eu.
In her article Baroness Ludford also cites the European consumer BEUC's position on consent in support of her position. In a response sent to members of the LIBE Committee, BEUC have been strongly critical, adding that it was 'to their dismay…that…(she) referred to our position on 'consent' in isolation and without referring to the points included in the BEUC position." BEUC go on to say that other amendments proposed by the Baroness would "systematically reduce the level of protection that consumers in the UK and elsewhere enjoy".
We will continue looking at her (many) other damaging amendments in a follow up post.