Automatic Numberplate Recognition – function creep begins?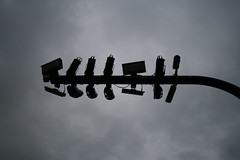 Yesterday, Home Office minister Jacqui Smith announced that she had signed a certificate to exempt Transport for London and the Metropolitan Police from certain provisions of the Data Protection Act. The move will facilitate the transfer of bulk data from the TfL's congestion charging cameras, which the Met will be permitted to use when investigating threats to national security. The data – collected using automatic numberplate recognition (ANPR) cameras which encircle the capital – can reveal the movements of all motor vehicles in and out of the city centre.
Oversight of the new arrangement comes in the form of an annual report to the Information Commissioner's Office. But until the ICO are given sufficient clout to effectively enforce the current Data Protection regime, should we really be convinced that this represents enough of a check on new data sharing powers?
Today, news sources are reporting that leaked Home Office documents reveal plans to extend these powers "for all crime-fighting purposes". According to this report from the Guardian, the DTI had expressed reservations over such a move, since it is likely that associated privacy concerns would slow down proposed road-pricing schemes that have already attracted public pushback. Earlier this year, a petition against road-pricing attracted 1.7 million signatures. In his response, the then Prime Minister Tony Blair assured petitioners that "any technology used would have to give definite guarantees about privacy being protected – as it should be."
Spyblog has a thorough analysis of the legality or otherwise of function creep in ANPR systems, drawing on the Annual Report of the Chief Surveillance Commissioner (pdf), which, coincidentally, went online yesterday. For more information on ANPR technology, and Association of Chief Police Officer's proposals to "deny criminals the roads", see ORG's wiki resources page. And don't forget that if you're concerned about the effective scrutiny of our data protection laws, you can help contribute to the ORG response to an ICO consultation on Data Protection Strategy.