ORG-GRO: Aiming for 1,000 this month!
This post contains both good and bad news.
The good news is that the community is really helping in our mission to achieve financial sustainability and a secure future for digital rights. The chart below shows how many new supporters you have successfully recruited: a mix of blogging and friendly persuasion have contributed a lot to our growth since July of this year.
Tom, currently the top recruiter, is in line to win the Asus Eee PC (but remember, there's still plenty of time to catch up with him) and there's a good crowd who've recruited three or more new supporters so will receive a special T-shirt. Please, if you have a blog, encourage your readers to join ORG. If you know people sympathetic to the cause, convince them to sign up. And if you have spare time, read this page or get in touch for more ideas to help us recruit new supporters. If even a small proportion of our readers and supporters increase their involvement, we would smash our target.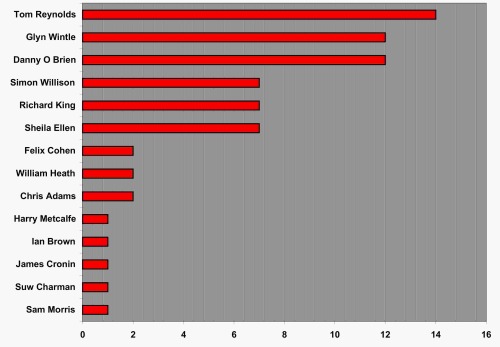 Onto the bad news: this week the widgetometer slipped from 968 to 960 fivers per month. The drop is largely explained by the twenty or so supporters' donations that every month fail to arrive as expected. This seems to be mainly administrative error, such as forgetting annual payments or Paypal subscriptions ending as credit cards expire, rather than a conscious decision to stop making regular donations. After a couple of reminders, the payments generally restart. We have been attracting a lot of new supporters but not, in the last week anyway, enough to balance out the regular drop. We wanted to share this with you to highlight how tough it's been to build up our supporter base. Also, we hope this will encourage you to use your networks to reach our target.
That aside, the ORG-GRO supporter drive has been a real success so far and you guys – especially the recruiters in the chart – deserve a huge thanks. This month, let's try and break through the 1,000 mark. That's only another forty supporters we need to attract by the end of October. Come on – join up!